A message from superintendent Dr hildreth
A message from superintendent Dr hildreth
On August 24th, the WUSD Board of Trustees held a Special Board of Education Meeting to discuss the pros and cons of adopting universal face mask requirements at all WUSD schools. Following the discussion and guest presentation by Yolo County Health Officer Dr. Aimee Sisson, the Trustees approved the implementation of universal face mask requirements at all WUSD schools.
Universal face mask requirements take a proactive approach to maintain the safest environment possible at each school and support our kids to stay in school all year, minimizing disruptions.
This change will go into effect on Monday, August 30, 2021. You can expect follow-up communications from your school administration.
What are universal face mask requirements? Universal face mask requirements mean that all TK-12 students, staff, volunteers, and visitors on all WUSD school campuses are required to wear a face mask indoors and outdoors, regardless of vaccination status. This includes any activities and extracurriculars outside of school hours.
How long will universal face masks last? WUSD will continue to monitor the case rate in Yolo County and West Sacramento and reevaluate the continuation of universal face masks on or before November 1, 2021.
What about exemptions? Pre-existing exemption rules will still apply. For example, some individuals are exempt from wearing a face mask due to a medical condition, as confirmed by their doctor. These individuals will wear a non-restrictive alternative, such as a face shield with a drape on the bottom edge if their condition permits it.
What happens when students need a mask break when outdoors? Students will be allowed to take brief mask breaks when outdoors and physically distanced. This includes P.E. or during other activities that are considered strenuous.
Information Hubs
Information Hubs
Student Hub
Student Handbook (subject to change throught the year; last revised 8/7/21)
Make-up pictures are September 22nd
EHallPass Login (use Classlink to log in)
Scholarships are listed on the counseling webpage!
If you have trouble logging in to Aeries or your Chromebook, ask your teacher to submit a Help Desk Ticket
Academic Outreach Schedule: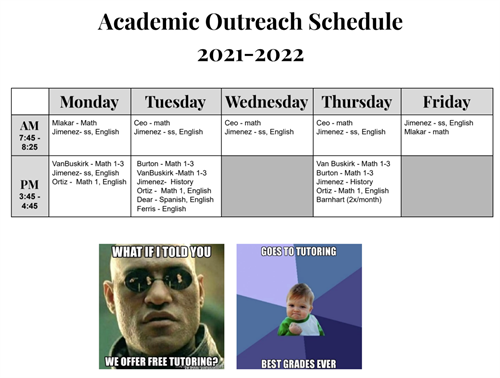 Parent Hub
Teacher/Staff Hub
Back to school
Back to school
Student schedules can be found in Aeries, please log in to your Aeries account to view schedule, attendance, grades, transcripts, and more.
General Back to School Info for all Families
Event Calendar
Event Calendar
ASB Calendar
Board of Education Meetings
RCHS Website Calendar 2020-21
Our Mission
The mission of Washington Unified School District,the gateway to extraordinary possibilities, is to challenge and support each student to develop effective critical thinking, problem solving, and communication skills as a life-long learner acting in an ethical manner to serve a broader community through a community of learners characterized by engaging learning experiences in safe, positive environments; highly-qualified, reflective and adaptive educators; a culture of innovation responsive to student needs and aspirations; a community promoting family involvement, strong partnerships, and school pride.
Learn More