Return to school survey
Top of Page
This survey applies to ALL WUSD FAMILIES. If you have previously taken this survey, your preferences have been recorded, but we need to hear from you regarding changes to current public health guidelines. You now also have the option to provide comments and ideas to our team.
What We Need From You
If you have not previously taken the survey, please do.
If you have previously taken the survey but wish to update your choice, please do.
Sample student schedule for Blended/Hybrid Learning available below:
*PLEASE NOTE* This is a DRAFT ONLY. Times are approximate, and all plans are subject to negotiations with employee bargaining units and the public health guidelines.
Student Hub
LINK to Academic Outreach sessions. You must be logged in to your WUSD account to access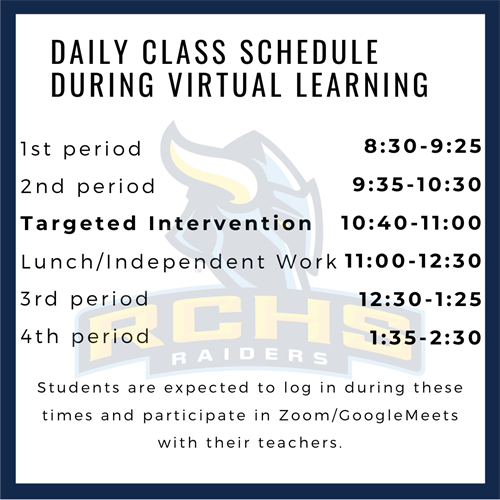 Parent Hub
What to get involved? Join the Raider Parent Network! Email parentsrchs@gmail.com to learn more or find them on Facebook.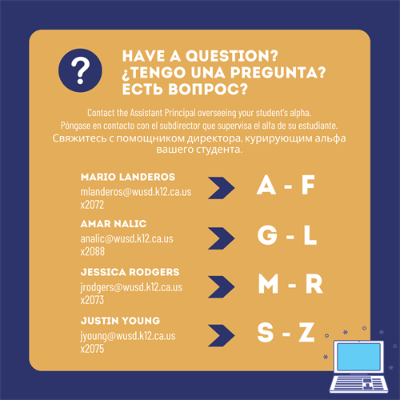 Teacher Hub
Class of 2021
With the March 2nd FAFSA and CA Dream Act application approaching, there are many upcoming Cash for College workshops to assist seniors with completing their financial aid applications. Please feel free to attend a workshop.
College for FREE - West Sac Promise

Top of Page
March is Women's HIstory Month! This month we will honor women who have made a contribution to American history, politics, medicine, sports, arts, music, culture and more!
Victor Community Support Services is offering after school support groups for high school students including:
Adulting 101: Learn life skills
Social Corner: talk trends, listen to music, connect with peers
Music and Movies Club: a fun club for fans of movies and music
Open to all LGBTQIA+ teens and allies, this group is here to support you!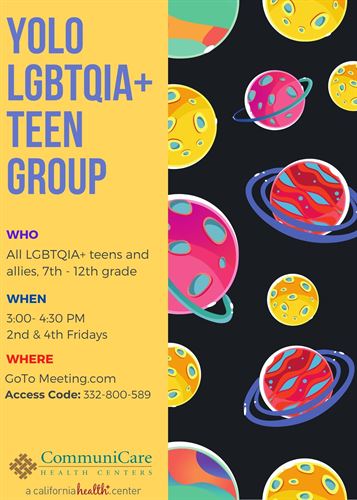 Assistant Principal Breakdown
Counselor Breakdown
Check back frequently for new posts and information on how RCHS is honoring the contributions of Black Americans to American History.
ASB Calendar
Board of Education Meetings
RCHS Website Calendar 2020-21
Our Mission
The mission of Washington Unified School District,the gateway to extraordinary possibilities, is to challenge and support each student to develop effective critical thinking, problem solving, and communication skills as a life-long learner acting in an ethical manner to serve a broader community through a community of learners characterized by engaging learning experiences in safe, positive environments; highly-qualified, reflective and adaptive educators; a culture of innovation responsive to student needs and aspirations; a community promoting family involvement, strong partnerships, and school pride.